Wine Tours in Our Slice of Malibu Wine Country
UNIQUE WINE TASTINGS & EXPERIENCES FOR ADVENTURERS, THRILL SEEKERS, AND WINE CONNOISSEURS
Malibu Wine Hikes & Tours strives to provide a memorable experience for adventurers, thrill-seekers, and wine connoisseurs, or those who are simply looking to have a great time and try new things in the beautiful Malibu Wine Country in California.
The three types of tours offered are great fun and highly educational, with skilled tour guides leading excursions through scenic Saddlerock Ranch, an 1100-acre vineyard and working ranch with photo opportunities, beautiful views, and nature abound!
Whether you live nearby or are visiting from far away, these Malibu wine tours will give you a fresh, different perspective of a familiar part of Southern California that is at the same time wild, untamed, and so, so classic. Explore our vineyard on a unique Malibu, California wine tour.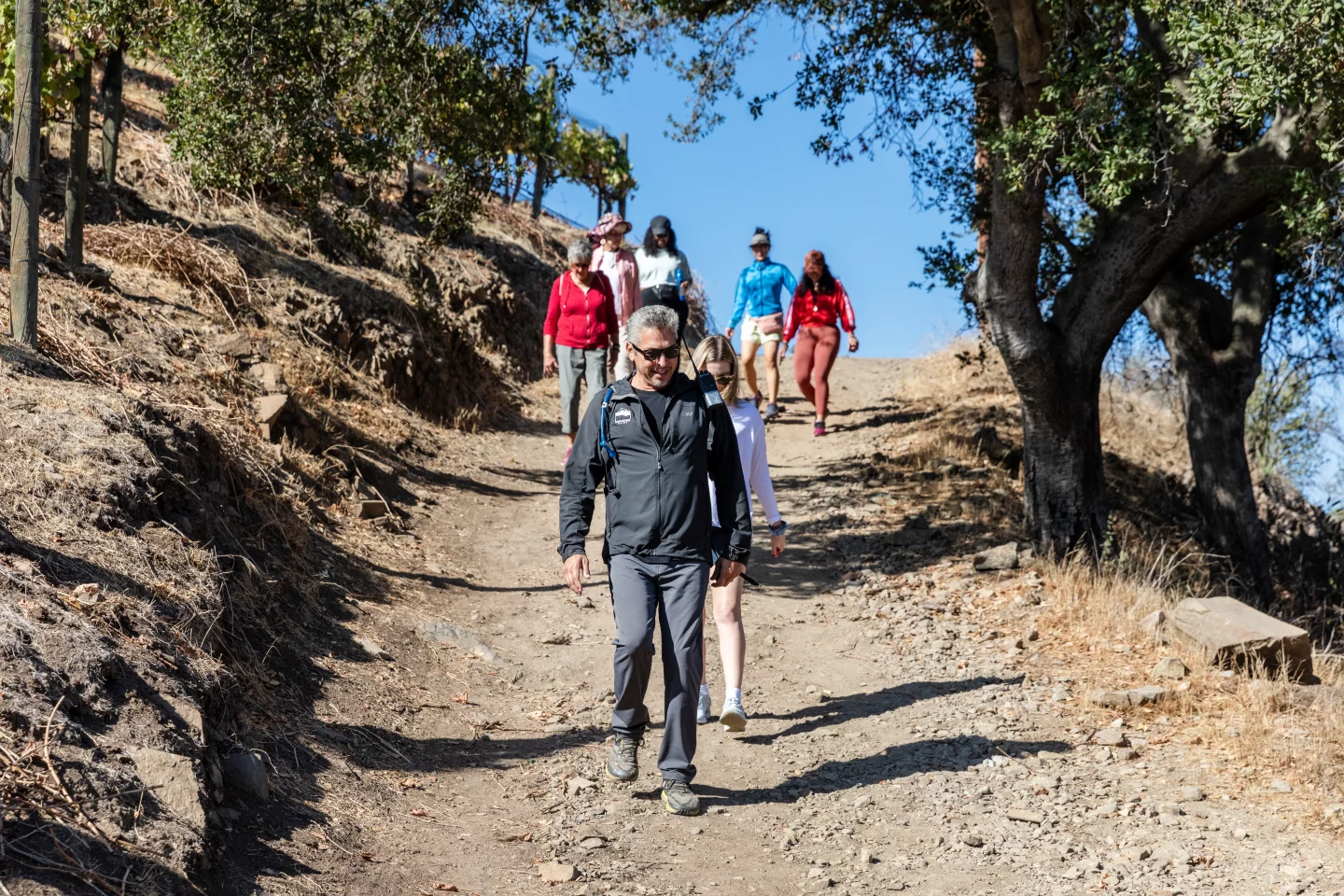 For those looking to get out into the bright sunshine and move their bodies, the hiking tour may be the wine hiking tour for you! Walk through the vineyard and enjoy learning about the history of the ranch, the local flora and fauna of the Santa Monica Mountains, and the grapes that are grown on the property, with a brief mid-hike beverage offered and many stops to see the beautiful sights.
For those more interested in riding around the ranch in style, this vineyard tour takes you and four other friends to several spots to enjoy awe-inspiring views, gorgeous picture-taking spots, delicious snacks, and beverages, and learn about the history of Saddlerock Ranch.
For those looking to experience more of what Malibu has to offer, this VW bus tour through Saddlerock Ranch and out onto the Malibu roads. You will be able to enjoy an exciting music-filled ride in the vintage Volkswagen Bus, take gorgeous pictures by the beach and taste some of the most delicious wines Malibu has to offer!
exclusive tours for your group
whatever the occasion
For bachelorette parties, corporate events, birthdays, or other private events, a private wine tour will enable you and a much larger group to either do a wine tasting hike or a 4×4 vineyard tour together, with no outside parties able to book spots with your group!
This can be great for an experience that will more intimately accommodate you and your party. Have a group over 5 people? Rent multiple 4×4 vehicles with plenty of snacks and beverages for a more sizable group.
Lunch or further snacks may be catered in for your event, with our preferred local catering company, Blue Table, offering choices of sandwiches, salads, cheese and charcuterie boards, and dessert options for a party that may coincide with lunch or dinner.
Have questions about our wine tours and experiences? Interested in a private tour or event rental space?
Our customer service is here to help you plan your trip or answer your questions. Reach out today.