PRIVATE & CORPORATE WINE TOURS
Private tours are available for groups that desire a more intimate experience for private parties or corporate teams. You can also rent space on the ranch for your event. Contact us for more information.
Exclusive team building and event spaces
Private hikes and 4×4 adventure tours are available for team building events, client outings, and other fun events in Malibu or near Los Angeles. Looking for a venue for your corporate event? Saddlerock Ranch offers unmatched views for event. Make a lasting impression with our private tours or unique event rental spaces.
With these tours, the tour guide can cater specifically to you and your group and keep your particular interests in mind throughout the tour. They will be able to show you the kinds of sights YOU want to see and be able to take amazing pictures for you and your party.
Wine Taste and off-road Through Malibu Vineyards
Split into small groups and facilitate team-building off-road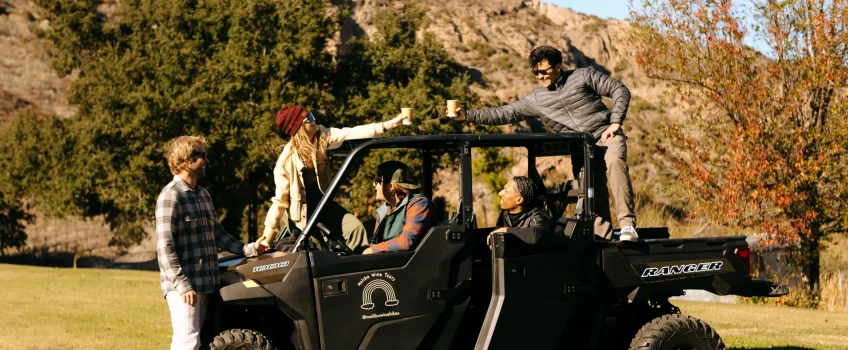 Kick off your celebration or corporate event kicking up dirt on a vineyard tour in one of our off-road vehicles including ATVs. There are numerous stops on this tour. 
Guests can expect to see gorgeous mountain views, enjoy five beverages and a charcuterie board for each vehicle rented, take advantage of numerous photo opportunities, view Chumash Native American cave paintings, and learn about the property.
A 10% gratuity charge will be included in each vehicle purchase when booking more than two vehicles, and additional gratuity is welcome!
DETAILS & ESTIMATED COST FOR PRIVATE 4X4 ATV TOUR
Starting at: $425 per vehicle 
Maximum Number of People: 45 people maximum (9 vehicles)
Beverage & Food Inclusions: 5 beverages and a charcuterie board per vehicle
For 4×4 adventure tours, a maximum of 45 people can be accommodated, as nine 4×4 vehicles can be rented out to drive larger numbers of guests to enjoy stops together. This is a two-hour drive throughout the scenic Saddlerock Ranch, where guests will see a majority of the 1,100 acres of the property. Five guests can fit in each of the nine possible vehicles available, capping out at 45 people. 
Bond with your team on a scenic vineyard hike
Let bonding flow naturally on a guided hike with wine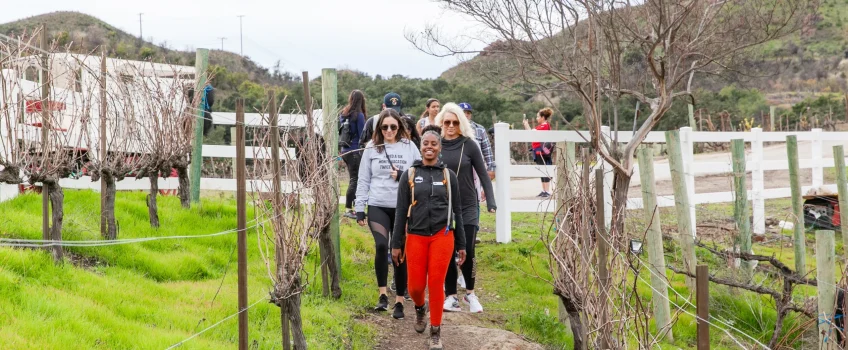 Take in the fresh air and beautiful views of Malibu with a wine and hike tour. With these tours, even larger groups can be accommodated, with one tour guide assigned for every 20 guests to give all hikers an educational and informative experience. 
Guests can expect a two-hour hike through the property during the private vineyard hike, covering approximately 2.5 miles. Guests will see beautiful vistas, stop for numerous photo opportunities, view Chumash Native American cave paintings and learn about the property's history.
DETAILS & ESTIMATED COST FOR PRIVATE WINE HIKE​
Starting at: $646 ($53.90 per person including 10% gratuity per ticket)
Minimum Number of People: 12 guest minimum
Beverage Inclusion: Some wine included
Additional Info: 2.5 mile hike
For the private hike, guests will pay for twelve spots minimum, despite the possibility of a smaller number of guests attending, starting at $646 ($53.90 per person). A 10% gratuity charge is included in each ticket price, and additional gratuity is welcome!
RENT a SPACE FOR YOUR CORPORATE EVENT OR CELEBRATION
Exclusive and stunning Malibu venue on Saddlerock Ranch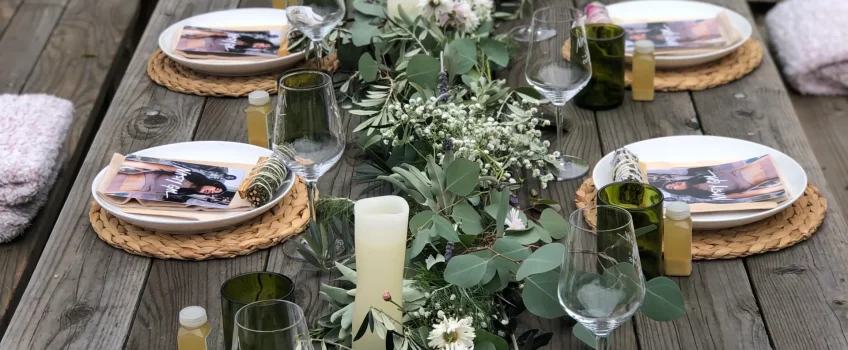 Event spaces are available for rent for corporate or private activities, with two options for event spaces, including seating, restrooms, and lawn games. These spaces are available for rent hourly, and security is required when renting a space for large parties and corporate events. Please note, event spaces can only be booked with a private tour.
Intimate Group Space: The "island"
The "Island" space is perfect for groups under 50 people, with lots of seating and a beautiful view of the horse pastures, and a grove of oak trees that surround a popular wedding event space. Lawn games like cornhole, Giant Jenga, and Connect 4 will be available. This space is available for $500 per hour.
EXPANSIVE GROUP SPACE: THE "GARDEN"​
The "Garden" space is perfect for group sizes anywhere from a few people to a maximum of 250 people. This gorgeous space has many seating options, restrooms, and Giant Jenga and Connect Four games to play. In addition, a one-acre organic garden connects to the space that guests will be allowed to walk through and browse ripe fruits and vegetables and view the blooming flowers. This space is available for $1000 per hour.
Catering is available for any private parties or corporate events. Guests can enjoy delicious family-style food catered by Blue Table before or after the tour, starting at $35 per person with a 15-person minimum. Event spaces must be rented to include catering. For more details on your event venue rental, fill out the form below.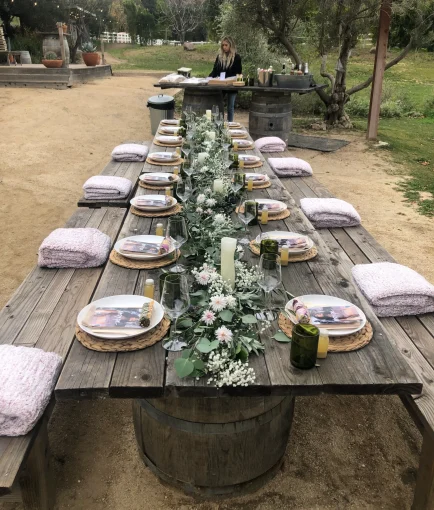 Frequently Asked Questions
Yes, though you will be responsible for arranging pick-up or drop-off times and will be expected to coordinate with the event planner.
Yes, absolutely. We will work with you to ensure that your guests are not hungry or thirsty during the event.
As many as you would like. Private spaces are booked by the hour.