Los Angeles is among the top spots in the country to celebrate an exciting milestone, such as a bachelorette or birthday party, for a good reason—there is so much to do, so much to see, and so much good food to eat. Los Angeles and the surrounding beach towns have amazing weather, scenery, and many photo opportunities to make your celebration memorable. Though it can seem daunting to decide on which activities to participate in, this guide will make one thing certain—you'll feel good and look great while doing them! When planning large milestone events such as these, so many things must be taken into consideration when gathering groups of people together in a new location. This guide will help to take some of the load off by sharing everything you may need to know about planning a bachelorette or birthday celebration, with considerations for what to bring, how to get around, and the top photo spots to visit for the trendiest pics!
What You and your Girlies Can Do in LA and Malibu
Alright, here's the deal: when deciding on a destination, the top considerations will probably be how many fun, great activities are available and where the best photo-ops are. Luckily, Los Angeles and Malibu are famous for these two things in particular (as well as amazing food, but more on that later!).
Malibu Wine Tours Bachelorette Experience
Malibu is a gorgeous place, and though the beach is generally the first thing that comes to mind when thinking about Malibu, there are also magnificent rock formations, mountains, and vineyards. With Malibu Wine Tours, you and your crew can choose the best way to tour the fabulous Malibu scenery based on your activity level and love for wine! Malibu Wine Tours boasts hiking tours, 4×4 vehicle tours, and vintage VW bus tours, all while supplying some delicious Saddlerock Wine. Tour around Saddlerock Ranch, take gorgeous outdoorsy pictures, take in amazing views on high-up overlooks, and enjoy seasonal snacks, wine, and fruit along the way.
Activity Details
Cost range
Reservations advised
Reservations for any of these tour options are necessary.
Barcycle SoCal
Walking, driving, or even Ubering from bar to bar during your birthday or bachelorette pub crawl is so last year. Now we cycle and sip at the same time! These 15-seater barcycles are ridden throughout Santa Monica and Venice Beach, making bar and restaurant stops along the way. You can also BYOB and ride along the beach with your group, checking out the local scenery in a fun and unique way.
Activity Details
Cost range
$42 per person up to 10 passengers.

$39 per person for 11-14 passengers.

$33 per person on average if all 15 seats are booked for your party, or you can




make the event private and book all the seats anyway to ensure no strangers on




your barcycle (8 passenger minimum).
Reservations advised
Absolutely. In order to ensure that there is a barcycle available for your party, reservations are necessary.
Bella Boating
Can you imagine a more luxurious way to celebrate your birthday or bachelorette party than spending time on a chartered yacht with your closest loved ones? Departing from Marina Del Rey, Bella Boating offers several different types of piloted excursions, from a two-hour sunset cruise, a three-hour cruise along the coastline, a four-or-five-hour trip along Malibu Pier or Paradise Cove, or even a seven-hour+ trip to Catalina Island. Bring as much food and alcohol as your crew would like on board, and enjoy a complimentary charcuterie board and welcome snack, as well as access to a Bluetooth sound system and refrigerators to make the excursion one to remember!
Activity Details
Cost range
All of these prices are for the maximum number of guests, which is 12 passengers. The prices are lower (approximately $100 lower per one less person) for smaller groups.
Sunset Cruise: $1,700

Catalina Island Trip: $4,800

LA Coastline Cruise: $2,250

Paradise Cove Playday: $3,350

Malibu Pier Anchor: $2,800
Reservations advised
Reservations are required.
Surfing and SUP Lessons with Learn to Surf LA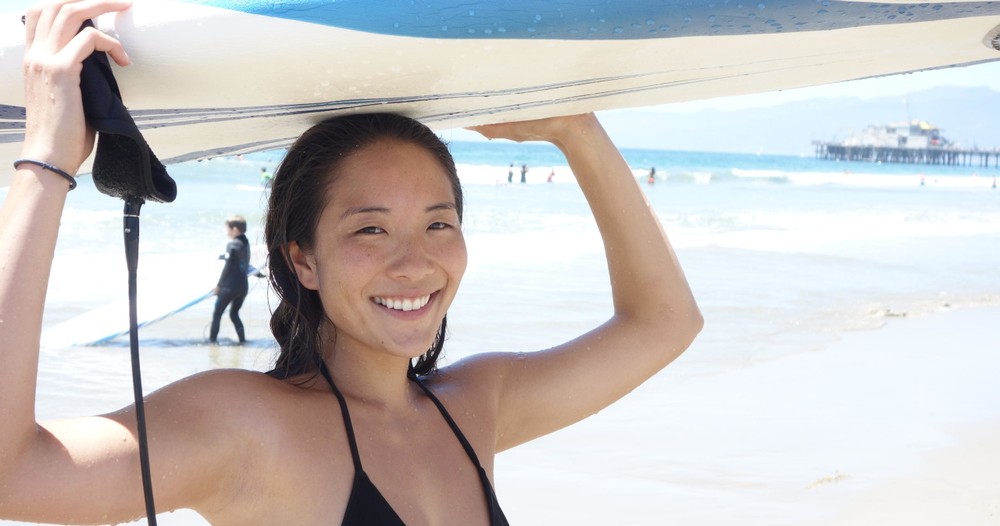 Let's get active! What's more SoCal than surfing or learning to stand-up paddle board in the waters surrounding LA? Concentrated in Santa Monica, you can expect fun in the sun and action in the ocean with your sporty friends and family. Expert instructors will lead private surfing or stand-up paddle boarding classes for all skill levels and provide your party's gear and equipment. Lessons usually take about two to three hours for bigger groups. For large parties, multiple instructors will divide about four students per instructor to ensure that each person gets the highest quality lesson. The best water conditions are generally in the morning, but the instructors are flexible. Angie Rutan, Senior Administrative Assistant of Learn to Surf LA and surf coach, speaks on the high quality of the lessons given at the company.
"All experience levels are welcome," she said. "Our instructors are some of the best surfers in
the world."
Activity Details
Cost range
Private surf and SUP lessons vary depending on group size and activity chosen.
Surf lessons for up to 8 people: $85 per person.

Surf lessons for 9-20 people: $75 per person.

Surf lessons for 20+ people: $70 per person.

SUP lessons for up to 8 people: $115 per person.

SUP lessons for 9-19 people: $100 per person. Call for a quote for more than 20 people.
Reservations advised
To ensure an instructor will be available, reservations are necessary.
Painting with a Twist
Calling all would-be artists! Painting with a Twist offers fabulous private party options for up to 30 guests, in which guests will get a private party room and a private instructor to lead you and your party through painting an image of your choice! Most locations are BYOW (bring your own wine), and glasses and bottle openers are supplied and available upon arrival. With up to 6000 options for images to paint and the possibility of other delightful events such as DIY candle making and wine glass and black light events, the experience is fully customizable to ensure maximum creative fun!
Activity Details
Cost range
For two-hour events: $39 per person.

For three-hour events: $49 per person.
Reservations advised
In order to be sure that a space and instructor is available, reservations are necessary.
Pamper Yourself and Your Crew at The Beverly Wilshire in Beverly Hills You deserve to lay back and have time to relax during your birthday or bachelorette party! Refuel yourself and your close celebration crew at the Forbes Five-Star spa at The Beverly Wilshire Four Seasons. They have a special "group spa" option for Mondays to Wednesdays until October 31, 2023, where groups of five people or more will get a 10% cost reduction per person when booking together. The spa treatments may include massages paired with the latest technology, facial and body treatments, and access to the spa facilities with your group. The facilities include steam rooms, ice fountains, a tranquility lounge, a pool, a jacuzzi, and a fitness center.
Activity Details
Cost range
Each massage is anywhere from $285 to $525.

Facials can cost anywhere from $495 to $995.

Body treatments can cost $695 to $995.

These costs do not include the 10% discount.
Reservations advised
Reservations are necessary. For the 10% off, book before October 31, 2023.
Where to Eat & Drink in the LA Area
Finding a spot to dine or drink with your crew can be difficult, especially since the options are so numerous in LA county. When deciding on a destination, spots with the right atmosphere for your event, locations with great pictures, and food and drink that everyone can agree on are top considerations. These four drinking and dining options will ensure the pictures are beautiful, the vibes are fun, and the food and drinks are delicious!
Malibu Wines & Beer Garden
Malibu Wines and Beer Garden is the official tasting room of Malibu Family Wines and Saddlerock brand wines, with the estate wines being grown on Saddlerock Ranch in Malibu. The tasting room is situated outdoors beside a gorgeous and historic mission-style building. Beer and hard kombucha options are offered, along with wine and wood-fired pizzas, charcuterie boards, and salads from Topanga Grain Co. on the weekends. Otherwise, Malibu Wine and Beer Garden is picnic-style so that guests can bring snacks and meals. Check the calendar on the website to catch fun events such as Paint & Sips, jewelry making, yoga and mimosas, and the famous 20- tap beer tastings.
Activity Details
Cost range
Beer: Approximately $10 per 16 oz pours.

Wine by the glass: Approximately $13+ for non-estate brand glasses and $17+ for estate wine glasses.

Wine bottles: Approximately $45+ with higher prices for premium estate bottles.
Reservations advised
For larger parties or on busy weekends, reservations are advised. Walk-ins are welcome.
Vibe check
The tasting room vibes are upbeat and relaxed. Visitors can be found sitting at round tables under gorgeous bistro lights or chatting on the lawn while sipping beer or wine.
République Café Bakery & Restaurant

République Cafe Bakery and Restaurant is in a gorgeous historic building originally erected by Charlie Chaplin in 1929 and celebrates its roots with beautiful classic décor and French- inspired fare. This restaurant can give you and your guests a varied experience, as there is a casual bakery, café, and bar in the front of the building and a more formal dining experience in the back. This means you can begin your weekend morning right with a bloody mary, mimosa, or coffee paired with a Belgian waffle or pastry and end your night with options for a fancy multi-course dinner, including seafood items, pasta, and choice cuts of meat.
Activity Details
Cost range
The café and bakery prices are generally around $15 to $25 for food. Dinner will generally sit at premium prices.
Reservations advised
For dinner, reservations are advised. Walk-ins are welcome for the bakery and café.
Vibe check
Restaurant vibes are classy and dressy-casual. Café and bakery vibes are casual.
No Jealousy
If you want to start your birthday or bachelorette party with a bang, start the day with a wild brunch at No Jealousy. This brunch spot combines the vibes of a trendy restaurant with a daytime club atmosphere. With music, enormous drinks, and delicious breakfast and brunch food, you will feel like your celebration has truly begun. Menu favorites include breakfast classics like chicken and waffles and eggs benedict and lunch items like burgers and large chicken parmesan dishes to share. Drink stand-outs include a huge punch bowl for sharing, baby bottle cocktails, and upscale drinks delivered via bottle service.
Activity Details
Cost range
Prepare to spend upwards of $100 on drinks and food, as most of the drinks are large and come as package deals to be shared, such as trays of shots, magnum bottles of wine, and punch bowls of mimosas or bellinis. Reservations advised: For the most part, yes, though walk-ins are accepted. Arriving before 2:30 pm is encouraged for walk-ins.
Vibe check
Sunday brunches are DEFINITELY party vibes. Dress up and get ready to dine and drink! Get wild! It's your day!
Perch LA
Situated high above Downtown LA on the 15th and 16th floors of a luxe skyscraper, dinner at Perch LA boasts gorgeous views and delicious French fare, wine, and cocktails. With Saturday and Sunday serving brunch from 10 am to 3:30 pm, happy hour from 4 pm to 6 pm Monday through Friday, dinner served daily, and a rooftop bar with live music every night and DJs on the weekends, there are many ways to enjoy visiting this upscale restaurant. The outdoor patio and rooftop are the perfect places to catch the sunset as you enjoy a few drinks while the sun goes down and the glowing lights of the city come alive. Whether dining inside or outside, for brunch or dinner, the food is sure to impress. Menu favorites include french toast and smoked salmon or crab benedict for brunch and steak frites, Chilean sea bass, and short rib for dinner. Truly, the views and the city skyline make a visit to Perch more than worth it, but the high-quality meals will make it memorable for you and your party guests.
Activity Details
Cost range
The dinner menu generally consists of upscale prices. The entrees on the brunch menu are around $20 each. For happy hour, cocktails and glasses of wine are around $9 and $7 with small bites that range around $4 to $9.
Reservations advised
For dinner and brunch, reservations are definitely advised. For happy hour on the rooftop, walk-ins are accepted.
Vibe check
The restaurant is classy but not stuffy. Overall, the rooftop and patio vibes are young, casual and fun.
What to Bring to Your SoCal Getaway
Clothing Choices & Guidance
Celebrating a huge milestone in your life affords you the freedom to choose not only your activities but also what you're wearing during them! Southern California is known for having fabulous year-round weather, so it is easy to ensure that you constantly look cute without bundling up too much. That said, nights tend to cool down, especially around the Malibu beaches. Light sweaters generally do the trick.
Bring a few dressy-casual options for classy dinners and cute dresses or outfits for the perfect photo at picturesque brunches and activities. Flip-flops are excellent for beach days and ocean activities; be sure to bring swimsuits and a rash guard if necessary. For hikes and outdoor activities, bring close-toed tennis shoes and matching activewear. If exploring some of the nightlife Los Angeles offers is on the roster, one cannot go wrong with party or cocktail dresses for upscale bars and clubs, of which there are many!
Consider the Activities
There are some activities, especially outdoor activities, where it is essential to wear specific clothing. For these activities, bring jackets, sunscreen, and lots of water. At the very least, close-toed tennis shoes are necessary for hikes of all difficulty levels. No flip-flops or heels! Water should either be purchased or brought while engaging in outdoor activities.
Swim suits are a must for surfing, paddle boarding, and boating, with rash guards or wetsuits being optional and often available at the activity. Sunscreen cannot be overstated enough, as the UV rays are intense around Malibu, even on overcast days. Check the dress code before heading to any upscale restaurants or clubs. Jeans are welcome at most casual spots but are prohibited at specific locations.
Coordinate Outfits Ahead of Time
One of the best things to do to ensure that you and your guests are on the same page with all the clothing necessary for each activity is to coordinate with them ahead of time while packing. Ensure they bring the proper footwear for all activities and look at the weather forecast during the packing process to pack accordingly. This will make planning and packing easier, avoid surprises, and ensure great pictures at every location! Perhaps a color-coordinated outing or special T-shirts to delineate the occasion is in order!
Prepare a Bachelorette Emergency Kit
Oh no! You're in town for a major celebration, and you're not sure if you are prepared for whatever may come your way. Maybe you're worried about a wardrobe malfunction or keeping a nasty hangover at bay. Perhaps you haven't been to the beach in a while and don't know what you should bring. What about going to the club? There are a couple of essentials that are necessary for a bachelorette party. Here are a few things to remember when preparing to party, whether it be a low-key outdoorsy event or a wild drink-filled extravaganza!
Bachelorette Emergency Kit
For nights out:
Double-sided fashion tape such as Hollywood Fashion Secrets Fashion Tape to fix outfits on the go.

Keep a small super glue tube nearby for broken heels.

Liquid IV to stave off a nasty hangover after a night of drinking.

Extra phone charger to ensure enough charge to take great pictures and to get a ride.

Aspirin. 'Nuff said.
For outdoor events:
Sunscreen for any outdoor event.

Extra jacket + change of clothes, if applicable, for beach days. The beaches around LA




can be chilly in the evenings!

Towels, blankets, large umbrellas, and maybe even a large tent if the beach is a




destination for a long time.

Yummy snacks to keep your energy up.

Electrolyte water or Gatorade to ensure maximum hydration when sweating.




For dinner and drinks:

Lactaid pills for our charcuterie-loving lactose-intolerant girlies.

A sweater for outdoor spaces, as it gets chilly when night falls.

Bachelorette or birthday sashes to ensure the waiter knows what they're dealing with! Maybe you'll even get a free drink or dessert!
How to Get Around LA
Getting around Los Angeles and Malibu is vastly different for those who live locally as opposed to those visiting from out of town. Los Angeles is a jam-packed city full of great music, events, bars, and restaurants, so the traffic situation is definitely as bad as you've heard. Plan to leave early to make it to scheduled events on time, taking traffic very much into consideration. Getting rides through ride-share apps should be very easy in LA and surrounding areas, especially in the evenings.
Malibu can be a little bit more difficult to travel around in. About 35 miles away from Los Angeles, it can take some time to get to your beachside destination. Once you are in Malibu, some areas will take significant time before a ride arrives to pick your party up when using a ride-share app. Lyft and Uber sometimes allow scheduling rides, which may help get a timely lift. The best way to get around without using these apps would be to book a personal driver or chauffeur for a few hours. There are a few apps, such as Dryver and Blacklane, that will match you with available vehicles, and there are several professional chauffeur businesses to contact to find the perfect driver and vehicle for your party. To simplify things and cut down on costs, choosing a DD and renting a large car for smaller parties is a good option as well.
If using a ride-share app or taxi service is best for your night out, deciding who is paying for and booking the Uber or Lyft ahead of time is important. One of the ways you can do this is to select a party member to secure all of the trips and pay this person back through Venmo or Zelle after the night is over, or maybe pay for their food and drinks for the night. Another option would be to have several party members take turns in a preselected order to book the rides.
LA County Photo Spots
Los Angeles and Malibu are known for having numerous fabulous photo-ops. Malibu has many beaches, ocean views, chill vibes, and natural wonders. At the same time, LA is interesting and eclectic, with lots of fun bars and restaurants, iconic streets and shopping, and great places to go with beautiful backgrounds and recognizable views.
Best Photo Spots in Los Angeles
Griffith Observatory, with fantastic views of the city and plenty of opportunities for gorgeous pictures. This location is best for sunset views and photographs of the Los Angeles skyline.
Santa Monica Pier has fun amusement park rides, an abundance of interesting food stands, and old-school charm, all of which are ideal for awesome pictures.
The Hollywood Sign, which can be captured in the background if you go to Lake Hollywood Park or participate in the Hollywood Sign hike.
The Hollywood Walk of Fame, where you can find the stars dedicated to your favorite–what else?–stars!
The Getty Center, which is a beautiful museum with lovely views, fabulous architecture, and historical art, is fun to explore and ideal for artistic photos.
The Los Angeles County Museum of Art (LACMA) has a famous photo-op with numerous lamps (202, in fact) just outside the museum called the Urban Lights.
The Venice Sign and the Venice Canals are quite close in the Venice Beach area. There are so many places to take great pictures all over the artsy and eccentric beachside town, especially where the sign stands high over the street at the entrance to Venice and the beautiful bridges and gondolas around the canals.
Colette Miller's Pink Wings on Melrose Avenue, where there are many great pictures to be taken with this iconic street art, the pink wings being the most famous.
Photo Spots in Malibu
Point Dume is a beautiful state beach with a fairly easy hike, and a wonderful ocean overlook as a reward for reaching the end.
El Matador State Beach, with awesome sunsets each night and proud rock formations reaching out into the water. This is one of the best beaches for pictures on the sand.
Solstice Canyon, with a mild hike to get to picturesque waterfalls and cool ruins of an old hunting lodge that a wildfire burned down long ago.
The Malibu Pier, with great restaurants such as Malibu Farm (a great photo-op in and of itself), is a great place to grab some pictures with the ocean in the background. Something about a pier always captures the perfect beachy vibe.
Iconic Coastal Restaurant Instragramable Moments: Many classy restaurants along Pacific Coast Highway, such as Geoffrey's, Nobu, and The Terrace at Carbon Beach Club, would be ideal places to stop for pretty cocktails, great views, and even better pictures.
LA Bachelorette & Birthday Frequently Asked Questions
Where should I go for a bachelorette party in Los Angeles?
Los Angeles is a big city filled with fun and adventure. There are so many great restaurants, bars, and activities to book and take part in, such as visiting iconic places like Griffith Park for pictures and checking out the stars on Hollywood Boulevard, setting out for a day in Malibu, and booking a tour with Malibu Wine Tours, and getting active with Learn to Surf LA!
Is LA good for bachelorette parties?
Los Angeles is a perfect bachelorette party or birthday destination because of the abundance of things to do, with options that fit the interests of nearly anyone looking to celebrate a milestone, not to mention the amazing weather year-round. Whether you want to get active and spend time outdoors or whether you're ready for an upscale nightlife experience, LA has you covered! What are some good activity ideas for bachelorette parties?

There are so many options for bachelorette parties depending on the interests of the bride-to-be and her party! There are fun, adventurous options such as hiking, taking tours, and horseback riding, exciting and boozy social options that include checking out the hottest bars and dance clubs, and more laid-back activities such as visiting wineries, booking meals at lots of great restaurants, taking art classes and so much more!
How do people in Los Angeles celebrate their 30th birthday?
A milestone like a 30th birthday party should be filled with new experiences! Book a tour with Malibu Wine Hikes to combine exploring nature, taking amazing photos, and—here's the best part—wine! Then dine and sip at Malibu Wines and Beer Garden to relax after an exciting adventure.

Check out high-quality sushi available at an iconic location at Nobu in LA or Malibu or Sugarfish in a few locations around LA, where you can get a free birthday dinner if you follow the instructions on their website.

Dance the night away at a famous nightclub like Academy in Hollywood or Exchange in DTLA.

Feel like a celebrity and enjoy a shopping spree on Rodeo Drive.

Feel like a kid again with a couple of birthday options that will inspire your inner child. Go to Disneyland for a day and get park-hopper tickets so that you can enjoy California Adventures too. Ooh and ahh at the amazing animals in the LA Zoo. Enjoy going to an arcade again (but with a cocktail in hand!) at the barcode, EightyTwo.
Where should I take my mom for her birthday in Los Angeles?
Does Mom love wine?

Check out Malibu Wine Tours and bring her favorite snacks to enjoy alongside the wine and preselected charcuterie board offered on the tour.

Does Mom like nature?

Take her to the Butterfly Pavilion at the Los Angeles Natural History Museum.

Does Mom need to relax?

Enjoy a "staycation" and get pampered at one of the classy Los Angeles-area hotels, like the Hotel Bel-Air Spa, the Ritz-Carlton Spa, or the Four Seasons, while finishing the day poolside and sipping refreshing cocktails or a glass of wine. Some of these spas even greet you with a glass of champagne!

Does Mom want a nice meal by the beach?

Take her to brunch or lunch in Malibu with a view at Geoffrey's, Malibu Farm, or Paradise Cove Beach Café.
——————————————————————————————————————————-
Los Angeles and Malibu are amazing places to celebrate a birthday party or a bachelorette party. These beautiful areas have great things to do that culminate into the perfect celebration that fits your needs and interests. There are active outdoor activities such as taking a tour with Malibu Wine Tours, learning how to surf or stand-up paddle board, cycling around LA with Barcycle, and booking a boat or a yacht to explore the Pacific Ocean. There are lovely, relaxing options such as wining and dining at Malibu Wine and Beer Garden, Perch, and République and getting artsy with Painting with a Twist. Lastly, there's plenty of time to party and dance while checking out some nightlife at clubs and bars.
The best advice about planning events like these is this: organize your birthday party, bachelorette party, or girls' getaway well ahead of time, coordinate outfits with your group to match the activities before arriving and book fun and popular things to do with plenty of time to spare. Plan at least a month or two before the date, and if applicable, ensure that rides are available wherever you end up going and plan thoroughly. Ensure you bring everything you'll need for an abundance of outdoor and beach days, as well as for the fabulous meals you're sure to enjoy and the partying at beautiful bars and lounges. Plan ahead, but make sure you're having fun while doing it. After all, this is your milestone celebration, and you deserve to make the most of it.